This Week: Jfokus 2012
Posted by
editor
on February 12, 2012 at 11:51 AM PST
Among the conferences I hope to attend some day is Jfokus, held annually in Stockholm, Sweden. In my view, Jfokus exemplifies an emerging trend where Java-centric conferences that originally started out as smaller, regional events ultimately attain international stature. It seems to me that conferences like Jfokus are increasingly taking on a greater role in helping developers network, exchange ideas, and learn more about the latest advances in Java technologies -- unlike in the past when JavaOne was the most important Java event by far.
Jfokus 2012 happens this week, Monday through Wednesday.
This is the sixth Jfokus. The first Jfokus in 2007 attracted more than 450 developers, virtually all from Sweden. The following year, the conference expanded to two days, and became more of an international affair, with 650 developers from Sweden, several other European countries, and even India, being in attendance. The conference continued to grow, moving to a larger venue starting in 2009.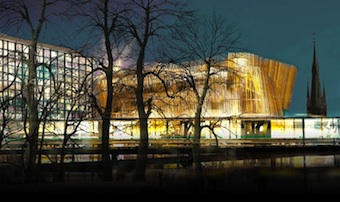 This year's speakers roster includes many prominent Swedish developers, along with quite a few people from other countries. For example, Google's David Chandler will be presenting on the new Dart language; Markus Eisele, from Germany, will be presenting "Java 7 - State of the Enterprise"; Oracle's Arun Gupta will have several Java EE related presentations; Oracle's Michael Heinrichs will present "JavaFX 2.0 from a developer's perspective"; Fabiane Bizinella Nardon, of RBS in Brazil (and the Java.net Java Tools Community), will talk about "Zero Downtime Continuous Deployment of Java Web Applications"; Oracle's Dalibor Topic will talk about the OpenJDK... That just scratches the surface, really.
Monday is devoted to tutorials, with a 3.5 hour morning session and a 3.5 hour afternoon session (five different tutorials happening simultaneously). Tuesday opens with a keynote address, "Enterprise Java in 2012 and Beyond," presented by Juergen Hoeller of SpringSource. The remainder of the day consists of 50-minute sessions, followed by BOFs in the evening. Wednesday's schedule includes additional 50-minute sessions, followed by a closing keynote, "Cool Code," presented by Curbranlan's Kevlin Henney.
You can follow Jfokus 2012 on Twitter (@Jfokus), on Facebook (Jfokus), or at the Jfokus conference site.
Update: Mattias Karlsson (@matkar) contacted me on Twitter with additional information about Jfokus: "Jfokus is a major international conference! 1450 visitors 2012." That, indeed, is a lot of growth in just five years since the first Jfokus in 2007. Mattias also points us to the video below, which gives us a bit of the feeling of what Jfokus 2011 was like:
Now I really wish I could be at Jfokus 2012!
---
Java.net Weblogs
Since my last blog post, several people have posted new java.net blogs:
---
Poll
Our current Java.net poll asks Under JCP 2.8, EC members lose their voting rights if they miss two consecutive meetings. Your view on this?. Voting will be open until Friday, February 17.
---
Articles
Our latest Java.net article is Michael Bar-Sinai's PanelMatic 101.
---
Java News
Here are the stories we've recently featured in our Java news section:
---
Spotlights
Our latest Java.net Spotlight is Tori Wieldt's Wanted: Java Code Brainteasers:
Each issue of Java Magazine includes a "Fix Me" page that presents a problem that challenges a Java developer's coding skills. The Java Magazine team is seeking Java Code Brainteasers for future issues. Here's a chance for you to contribute to Java Magazine!
Previously, we featured Javalobby's new poll, Have You Adopted Java 7 Yet?:
Java 7 has been available for a while now, and according statistics that Jelastic ran, it's market share is growing, albeit slowly. The article states that Java 7 accounts for 17% of the market while Java 6 still holds 83%. With Java still holding it's own on the latest TIOBE index, there's no doubt that it's not losing it's appeal to developers and corporations...
Prior to that, we spotlighted Johan Vos' DaliCore on java.net:
After years of development, refactoring, brainstorms, projects, fun, more refactoring,... we open-sourced the DaliCore code. DaliCore creates the core for the social networking applications that we developed with LodgON over the past years. Some code and documentation is now available...
---
Subscriptions and Archives: You can subscribe to this blog using the java.net Editor's Blog Feed. You can also subscribe to the Java Today RSS feed and the java.net blogs feed. You can find historical archives of what has appeared the front page of Java.net in the java.net home page archive.
-- Kevin Farnham
Twitter: @kevin_farnham