Java Conferences I'd Attend if I Had Several Free Months to Wander Europe, Part 2: JavaLand
Posted by
editor
on March 1, 2014 at 8:47 AM PST
In late January I considered what I'd do if I had several free months to wander Europe. A look at the Lanyard Java Conferences calendar gave me a great idea: I could wander through Europe from Java conference to Java conference, while also enjoying everything in between! My imaginary trip started in Stockholm, Sweden, with Jfokus 2014. I'm now traveling 1400 km southwest, to Brühl, Germany, for JavaLand 2014.
JavaLand is a new conference, taking place March 25 and March 26 at Phantasialand in Brühl. Among the objectives of the organizers is for JavaLand to "become the hub of the German Java developer scene." But JavaLand is also much more community-focused than traditional Java conferences. As the site notes:
This conference is "THE event created by the Java community for the Java community". The conference organizers have invited the Java User Groups represented in iJUG e.V. to join and contribute to the conference. This is a great opportunity for the community to get involved in the organization of the conference.
I spoke with Markus Eisele, one of the JavaLand founders, about the upcoming first edition of the conference. Here's what he told me...
Question: Who is organizing JavaLand?
Markus: JavaLand is organized by the German Oracle User Group (DOAG e.V.) together with the iJUG e.V., which is the association of German speaking user groups.
Question: Why create a new Java conference?
Markus: This was in the making for quite some time. All the existing conferences in Germany are somehow commercial and failing in community integration and interaction. We've been searching for a way for the JUGs to be involved more deeply and contribute to the overall conference setting. This is for sure the unique point with JavaLand. Beside having an official schedule with credible and well known names on it, we also provide a huge community driven side program.
Question: What went into selecting the conference location and venue?
Markus: Plenty :) As many organizers we've had to find a suitable venue. We didn't want another hotel or conference location and have been searching for the special location for a while. We finally found Phantasialand which is one of Germany's biggest theme parks. They have a conference center build in and we can also use the on-site hotels exclusively during the whole two days. Making this setup happen and bringing the needed infrastructure for a conference to a theme park is the most challenging thing so far. Honestly I don't expect everything to be perfect at the first event but we're learning on the way and I'm hoping for a lot of community feedback.
Question: Are any Java User Groups actively participating in the conference? How so?
Markus: The iJUG combines 19 different German-speaking JUGs and we invited all of them to contribute. JavaLand is the conference "by the Java Community for the Java Community" and one of the mainstays are the community activities which are exclusively driven by individual JUGs. Gerrit Grunwald of Münster JUG hosts the "Hackergarden", a software craftsmen's workshop, a classroom, a laboratory for experimentation and a place for discussion and getting to know open-source projects. Jürgen Thierack from the JUG Munich is hosting the "Lambdafy Your Project" area where participants can learn how to switch existing Java projects to lambda expressions. Stefan Koospal from the JUG Germany takes you on a "JavaLand tour" which is a very unique way of meeting new people and connecting with peers. Tobias Frech from the JUG Stuttgart is hosting the "J-Pardy" quiz. There are even more things still in the making and we're very excited to be able to also present a JUG-Cafe where attendees can connect with their local JUG and make first contact. The complete list of community activities is available on our website (unfortunately only in German).
Question: Why should developers attend JavaLand?
Markus: Because of everything we do :) The premium schedule with world class speakers and topics, the community driven activities, the venue and last but not least the price.
Question: What else would you like the community to know about JavaLand?
Markus: Java 8 is coming and it happens to be that we will have a Java 8 launch party at the community evening event. Stephen Chin will be joining us for the two days with his night-hacking. Space is running out quickly, especially the capacities in the venue-hotels. Better get you're registration in quickly. Great technology plus lots of community activities is a winning combination. Learn more at JavaLand.eu.
Alas and alack! If only I really did have several free months to wander Europe from Java conference to Java conference! JavaLand is one that I'd surely attend... But maybe you're luckier than me, maybe you can actually be there on March 25-26!
If you can't attend, well, you can at least follow the @JavaLandConf activities on Twitter!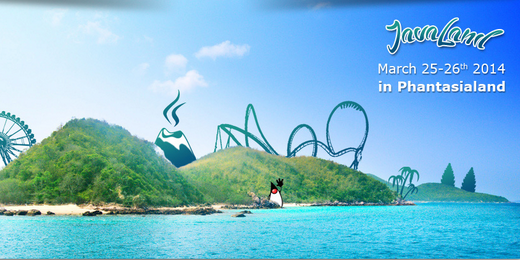 ---
Subscriptions and Archives: You can subscribe to this blog using the java.net Editor's Blog Feed. You can also subscribe to the Java Today RSS feed and the java.net blogs feed. To follow Java.net net on Twitter, follow @javanetbuzz.
-- Kevin Farnham (@kevin_farnham)