JavaOne 2007 is about to start
Posted by
mister__m
on May 7, 2007 at 8:49 AM PDT
JavaOne is about to start and I've already met some old friends again...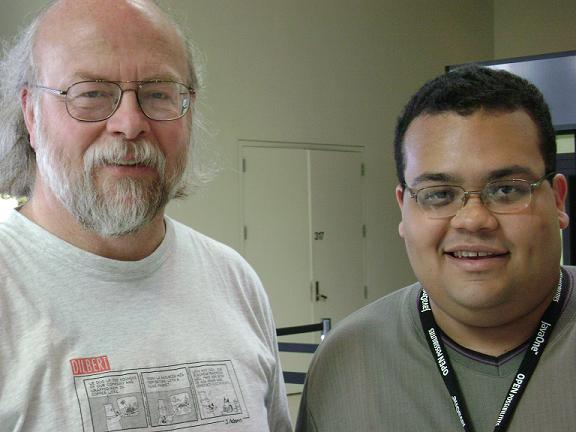 'nough said :-). I've met James Gosling during registration on Sunday. Ok, it is not like he actually remembers who I am without some explanation, but anyway... :-)
I have had a great time since I've arrived here on Saturday. In the afternoon, I had a long chat with Stephen Colebourne, who co-leads JSR-310 with me. We'd never met in person before, so it was nice to find out he is quite a cool guy. We've chatted a little about closures, generics quirks and some fresh code Stephen wrote in the plane that we should show up during our BOF, A New Date and Time API for Java Platform, Standard Edition (Java SE), that will take place next Wednesday, 9:55 PM, so make sure you add it to your schedule.
I've also had a great time yesterday with Vinicius & Yara Senger from Globalcode and Felipe Leme, aka felipeal, who is a long-time friend. We've just chatted about many stuff, including some of the most deceiving people we've came across in all these years in consulting. Maybe we should write a public blacklist somewhere :-D
Anyway, it's time to take a shower, put some clean clothes and go to CommunityOne, most of the time, to NetBeans day. I hope I can finally meet the Matisse/beansbinding guys and say a few things about its binding support before I submit a blog entry about it. It's been almost a year I've tried to reach them without success; hopefully, today it will be different.
I have to say a big thank you to my pals at Summa Technologies do Brasil, the company I work for and that is sponsoring my trip, making it all possible. See you @ JavaOne!