NetBeans Day morning
Posted by
mister__m
on May 7, 2007 at 1:25 PM PDT
So today is the CommunityOne event, an event where several communities get together in order to exchange ideas, watch sessions and, well, go to some parties. Right now, I am attending the NetBeans general session held by Jonathan Schwartz and Rich Green:
I've chatted a little bit with Geertjan, one of the NetBeans guys: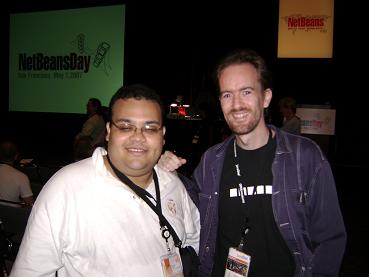 He actually remembers ThinNB, the Thinlet plugins I wrote in the painful NB 4.1 no-module-development-support days.
I've also met a couple of famous Brazilians folks: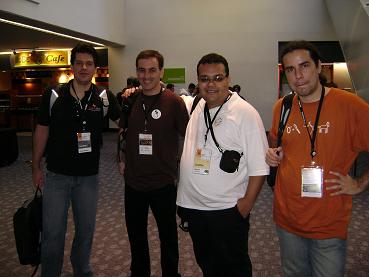 From left to right, Leonardo Galvão from JavaMagazine, Felipe Gaucho, myself and Felipe A. Leme.
Finally, I've been chatting a lot with Guilherme Silveira, from Caelum: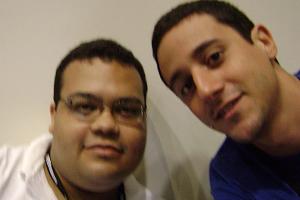 So much to write about, so little time :-P Hopefully I will blog about the conversations I had with these pals later on. See you around :-P