Party 10 year with Eclipse, around the Brazil
Posted by
otaviojava
on November 26, 2011 at 7:47 AM PST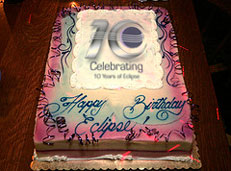 Eclipse is famous IDE in em Java, follows the open source model. The Eclipse project was stated by IBM that does the first version, then donated like open source for the community. The begin costs was above 40 millions. Nowadays, the Eclipse is one of the most used worldwide. Has important feature how the SWT uses and not the Swing, there are too many plug-ins for several developers in different situations.
On November month the Eclipse foundation promoted the party about the ten years old of Eclipse IDE, one of the most popular IDE worldwide. This event was around the world also in the Brazil,
In Ceará, the event was organized by CEJUG, java user groups of Ceará. The event happened on November 17, Thursday, at night. And counted with the present of java enthusiasts also java user group member, there was cake and T-shirt for the participants. The the speakers talk about their experience and tricks for render programming in the IDE more easy.
In Bahia the javaBahia, java user group of the Bahia, did the event November 12, on Saturday in the morning. The event had speakers talked about the eclipse's history her features and improvements over the years also upon plug-in for developers to the web and the mobile devices. This day at afternoon there was a unreferenced about cloud computing was speaking the Eclipse Orion project, an IDE in the cloud made by Eclipse Foundation.
Certainly the eclipse IDE facilitated too much the life of the java programers, what is expected are new features, more time of life beyond each year more improvements.
References:
Photos JavaBahia
videos javaBahia:
Unreferenced cloud camp
videos CEJUG: