The Audacity of Hope: Thoughts on the JCP
Posted by
van_riper
on January 5, 2009 at 6:17 PM PST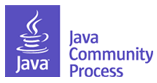 December 2008 marks the 10th Birthday of the Java Community Process (JCP) Program. Java developers in Silicon Valley are invited to join the JCP Executive Committees and the Program Office in celebrating ten years of collaborative work from companies, academics, individual developers and not-for-profits from all over the world. The party will be at the Computer History Museum on January 13th in Mountain View, California. Local Java User Group members can attend for free when they register in advance. Please tell them the Silicon Valley Web JUG sent you.

To be perfectly honest, I was like many Java developers that take advantage of the output of the JCP in terms of the various Java standards while not contributing anything back into the process. I recently participated in a QCon Panel Discussion where the JCP and how it is currently run was the primary topic. I was inspired by what I heard from the active members of the JCP in that session to take a more active role. I have since become an individual member of the JCP. I would like to contribute to the completion of JSR-310, the new Date and Time API. If you had not heard, JSR-310 needs help now or it is quite likely that it will not make it into Java 7.
I don't want to paint too rosy of a picture. The current setup of the JCP is such that there is very little in the way of community involvement opportunities short of direct participation on a particular JSR committee. However, there are indications that this may be changing soon. For starters, I personally would like to see them only require the 10+ page legal document to become a JSR committer. Basic JCP membership should only require a simple one page web form registration process. Plus, there needs to be some tangible community benefits attached to becoming a basic JCP member. For the time being, JCP really stands for the JSR Committee Process and not the Java Community Process.

One exciting recent development is the offer to allow Java User Groups to register with the JCP for free through the end of February of 2009. I'll be taking advantage of that for the registration of the new umbrella JUG I am creating for the entire United States called JUG-USA. That will be the topic of a whole other post in the near future. In the mean time, any JUG can become a JCP member organization for free. So, check it out!