Java Power Tools Bootcamp in Sydney and Wellington
Posted by
johnsmart
on August 16, 2011 at 12:13 PM PDT
Once again, I will be running the Java Power Tools Bootcamp workshop again in the second half of 2011 in Wellington (October 3-7) and Sydney (October 17-21).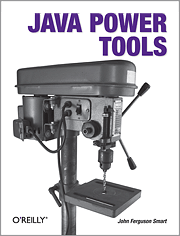 As usual, there will be some great new and updated material, but the big news this time round is the labs! During the new lab exercises, students interactively learn how to set up a full end-to-end Java development infrastructure, right from build scripts to continuous deployments. Some highlights include learning how to:
Build your app - Designing clean, repeatable, automated builds using Maven, including Maven 3.
Manage your binaries - using Nexus to manage both public and your own internal binary artifacts.
Test your app - learn about some more advanced automated unit, integration and acceptance testing tools and techniques.
Deploy your app - Automated deployment to different environments.
Verify your app - Integrating automated code quality and test coverage metrics into the build, using tools like Checkstyle, Findbugs, Eclipse, and Sonar, and making them work together.
Monitor your app - Continuous Integration with Hudson/Jenkins, including a host of useful tips and tricks, such as:

Integration with Subversion and Git
Grid-based testing your web apps
Best practices for integrating code quality metrics with Hudson and Sonar
Release management with Maven and Hudson
Setting up build pipelines and parameterized builds
Using Hudson as an automated deployment platform
The Java Power Tools Bootcamps are above all practical courses - you will be sure to leave with a host of very useful real-world tips and tricks.
Interested? Sign up here!