My Strata Thursday
Posted by
haroldcarr
on March 1, 2012 at 8:30 PM PST
Thursday March 1, 2012
---
1

8:50am Democratization of Data Platforms, Jonathan Gosier (metaLayer Inc.)
2

9:05am 5 Big Questions about Big Data, Luke Lonergan (Greenplum, a division of EMC)

BigData opens door to new approach to engaging customers and making decisions.

Data that was formerly discarded is now mined.

Scale everything: storage, compute, analytics, interaction.
---
3

9:15am The Trouble with Taste, Coco Krumme (MIT Media Lab)

wine tasting experiment: social influence, content & value, expectation & perception

wine aroma wheel versus mass spectrometer versus human nose
---
4

9:25am Embrace the Chaos, Pete Warden (Jetpac)

hard to access structured data (e.g, Amazon's product catalog) in the wild (unless you pay for it)

what was previously data "exhaust" (i.e., unstructured data) is now valuable (and generally free or very low cost)

ask yourself: what would Google do?

look for patterns

"forgive" human errors, noise, poor grammar/spelling, …

what data sources do you have? (e.g., support emails, invoices, tweets)
---
5

9:35am Open Data and the Internet of Things, Usman Haque (Pachube.com)

machine to machine
gas company meter reading to compute bill (purpose specific)
closed
internet of things
light bulbs, printers, cars, people, smart phones, people, appliances
data open to be used in other contexts

e.g., cell phone to tower info : tomtom traffic patterns
crowd-sourced data - e.g., radiation feeds
Internet of Things Bill of Rights (2011)
---
6

9:45am Big Data's Next Step: Applications, Gary Lang (MarkLogic)
2001 - MarkLogic founded - queries against (un)structured data in repository
2003 - XML in CMS with search
2006 - Hadoop
2007 - poly-structured
2011 - BigData (same thing MarkLogic has always done)
any data, volume, structure
analyze everything all the time in real-time
keep all data in commodity store and slurp into hadoop when needed
---
7

9:50am Dr. Richard Merkin, President and CEO of Heritage Provider Network, Announces the Winner of the Second Heritage Health Progress Prize, Richard Merkin (Heritage Provider Network)

healthcare data mining to improve people's life
---
8

Start-up showcase winners

judge winners

audience winner
metaLayer - drag and drop discovery

delv - take real-time data streams and mashup
---
9

9:55am Using Google Data for Short-term Economic Forecasting, Hal Varian (Google)
Platform
Infrastructure
search - solr
recommendation - hadoop, native MapReduce, bash
persistence - MySQL, HDFS, HBase, MongoDB (investigating Cassandra and Riak)
stream - RabbitMQ (investigating Kafka)
offline - MapReduce, Streaming, Hive, Hue
Infrastructure - Sqoozie
workflow for mysql imports to HDFS

generate sqoop commands , run imports in parallel

transparent to schema changes
include/exclude column, data types, table
data type casting
distributed table imports
Infrastructure - Blammo
raw logs import to HDFS via flume
5 min latency
logs are key/value in json
each log publishes schema in yaml
Recommendation system
recommendation engines
item hierarchy - you bought camera, need batteries
collaborative - people who bought camera also bought…
collaborative item-item similarity - you like Godfather so would like …
social graph based - your friends liked …
interest graph based - your friends who like rock music like you are attending …
why interest?
events are social
interest are changing
dense graph is irrelevant (need segmentation)
how know interest?
ask you
based on activity (attended, browsed)
facebook
machine learning

logistic regression using MLE
sparse matrix generated via MapReduce
model for each interest
recommendations
model based vs clustering
item-item vs user-user
building social graph is clustering step
social graph recommendation is a ranking problem
implicit social graph
u = user
e = event

              u1
             /  \
            e1   \
           /      \
          u2       u3
         /  \
       e2    e3
       /      \
     u4        u5
mixed features
series of map-reduce jobs
output on HDFS in flat files; input to subsequent jobs
orders - event -> attendees

map eid: uid
reduce eid[uid]

attendees -> social graph

input eid[uid]
map uid[uid]
reduce …
…
Hbase (single source of truth)
collect data from multiple MR jobs

stores entire social graph
over one million writes per second
| | | | |
| --- | --- | --- | --- |
| rowid | neighbors | events | featureX |
| 271 | 101 | 3 | 0.367879 |
tips and tricks
distributed cache as much as possible

sped up some MR jobs by hours
be sure to use counters

hive (use as much as possible)

"flip join" - join + processing/transformation
statistical functions using hive
UDF

memory memory memory
LZO, WAL
combiners are great until
shuffle and sorting stage
hadoop ecosystem is still new

optimal level of spill on disk vs jvm memory
significant amount of time doing debugging of hadoop itself
(best talk so far - nitty gritty details)
---
11

11:30am Pretty Simple Data Privacy, Kaitlin Thaney (Digital Science), Betsy Masiello (Google), John Wilbanks (Kauffman Foundation for Entrepreneurship)

John:
designers making it easy to give away your data (especially from mobile apps)
privacy is about context, social situations and control
users are getting pissed
simplifying understanding of privacy for users (e.g., iconic representations)
genome sequencing : openSNP
23andMe
design barriers to donate your data to science
Consent to Research - John Wilbanks' effort
Kaitlin:
make research more efficient viz privacy
opt-in service A conflicting with opt-out service B
de-anonimizers
Betsy:
Google's new privacy policy (in effect starting today: March 1)
notification effort started Jan 24 - and home page promos
previous 70 different policies - now 1 (but still has 6 other ones- e.g., google wallet)
treat you as single user across all products (HC: even if you don't want it)
to avoid: don't log in when doing search, etc (HC: so I have to logout of gmail before doing a search)
use "Privacy tools"

dashboard, ads preferences mgr, data liberation front, out-outs, encrypted search
Panel:
---
http://www.linkedin.com/in/dpatil
what is a data product (facilitates end goal thru use of data)?
philosophy for data
Jujitsu: the art of softness - defeat armed opponents without using weapons (use their energy)
use light-weight data to try things out (instead of gigantic design in advance)
build data products as a progression
what data do you start with: (un)structured; can you switch that ratio
cleanup : un -> structured
disambiguate by asking user (move hard backend problem to easy frontend problem)
human augmentation is key
build easy products first
be opportunistic for wins - e.g., people you may know
but yourself into the role of a physical surrounding (e.g., physical retail space)
giving back data is driver - e.g., who's viewed your profile, viewers by geography
data vomit is bad - too much info causes click-through-rate (CTF) to drop off
exposing data challenges - e.g., type-casting user
set user expectations - set your users up for success (e.g., pandora)
hard to test outside of production - need humans to look
have to win within 500ms
know when to build the serious stuff

e.g., post a job and get people recommend ("pandora for people")
---
     schema evolution
security
        scalability of consolidated store
selection performance
                     bandwidth conservation
referential integrity on interruption;
           battery and memory conservation
delete propagation;
             which data - temporal, spatial, user?
new user provisioning;
             conflict detection and resolution
multi-tier, scalable type 2 sync architecture:

  ??
no sql ; search
data synchronization
load balancer
web app
data infrastructure

external data
   v
big data > analysis
              v
            no sql > web app
              v
            sync > mobile
---
why?
requirements, save time/money
requirements
diverse needs

object storage, block devices for snapshots/cloning, shared file, structured data

scale

heterogeneous hardware, reliability, fault tolerance
time
ease of admin
no manual data migration, load balancing
painless scaling (up/down)
money
low cost per gigabyte
no vendor lock-in

software solution on commodity hardware
open source
what is ceph?
unified storage system : distributed storage system :data center scala, FT, commodity hardware
objects (big/small)
block devices
distributed file system
license
storage device coordinate (i.e., intelligence) so clients do not have to
data distribution
objects replicated N times
auto placed, balanced, migrated
smart about physical infrastructure (e.g., no duplication on same rack)
crush
pseudo-random placement algorithm
rules: e.g., 3 replicas, same row, different racks
predictable bounded migration
map update (e.g., new nodes, failure, downgrade) potentially triggers data migration
distributed file system
cluster-coherent
separate metadata and data paths
dynamic subtree partitioning
move work from busy to idle servers
best tool for the job
key/value
object store
map/reduce
posix
hbase/bigtable
map/reduce
percolator
motivation
limited options for scalable open source storage

orangefs, lustre, glusterfs, HDFS

proprietary
industry needs to change
who
created a UC Santa Cruz (2007) as his PhD
supported by DreamHost 2008-2011
new company 2012
growing community
they are hiring: C/C++/Python, sysadmins, testing engineers
---
NodeXL
firefox of GraphML
make network charts as easy as making a pie chart
connect researchers to social media sources
Open Tools
Open Data
Open Scholarship
social media is all about connections from people to people and exchanges between them
patterns are left behind
like, link, reply, rate, review, favorite, friend, follow, forward, edit, tag, comment, check-in, …
the strength of weak ties (in aggregate)
social networks: 1934: Jacob L. Moreno
sociogram of a football team
look for hubs
bridge : in what way is a person with only two connections more "important" than one with hundreds?
clusters : sub-communities
crowds :
isolates :
Gephi - photoshop for graphs
NodeXML - like MSPaint for graphs
Social Network Theory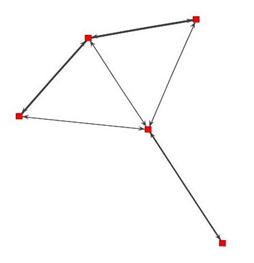 article: Visualizing the signatures of social roles in online discussion groups
taxonomy of types of people