Paddy Power Technology Series
Posted by
johnsmart
on March 13, 2012 at 5:43 PM PDT
I've just returned from Ireland, where I was presenting a seminar on Clean Code Practices for Java Developers at the Paddy Power Technology Series. You can view my presentation notes.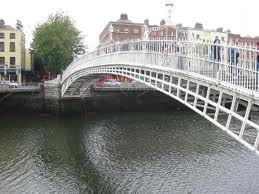 I also gave a presentation introducing Thucidydes, which included a live coding demonstration. You can find out more about it.
While there I also trained two teams at Paddy Power (an online betting agency, for those who don't know) in Test Driven Development, Acceptance Test Driven Development, and Automated Web Testing. They were very happy to receive the training and were interested to find out how using clean coding practices could improve their overall code quality. I was really impressed with the Paddy Power teams' level of technical expertise. (And for those of you in Ireland, or looking to move, they are currently recruiting!)
Dublin is a great city and I really enjoyed my time there. Here's a scenic shot of the famous Ha'penny Bridge over the Liffey River that runs through the fair city of Dublin. I hope to be back again soon!