The Bugs are Building Another Death Star
Posted by
johnsmart
on October 24, 2012 at 6:19 AM PDT
Bugs are inevitable. Even after you thought you have finished coding your work, another bug creeps in, making you want to wish the bugs were real tangible objects that you could squish with your bare hands. Being a developer, you should be armed with the right weapons to battle bugs for they come almost all the time. In fact, they are building yet another Death Star. If you don't get vigilant, they will soon take your software down.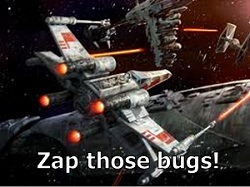 It's essential to know what you are dealing with. Bugs can take the form of logic errors, resource issues, security holes and more. Aside from knowing what they are, it's vital to know how to let the bugs surface so you can catch them before they come out of the pipeline. So how can you test for bugs and dispose of them effectively? How do you prepare and train for war?
I will be joining Dan Allen and Aslak Knutsen in a panel discussion at the upcoming Devoxx conference in Antwerp, Belgium. Discussion will revolve around bugs and how to zap them out of your territory. Faults due to human factors, integration failures, performance barriers, vulnerabilities, memory leaks, and other software defects will be tackled during the discussion. Attendees will get to know what testing methods are being used for various errors, strategies on performing much effective tests, and whether automation, manual testing or both should be used for optimum results.
Bugs are there 24/7, but you still have the power to control and eliminate them. Gear up for you will never know when those bugs will invade your software. Take part in creating a strong army that will send those bugs into a blackhole.